Presentations/Workshops/Corporate Wellness Programs
Hold a nutrition session for your sports team, your co-workers, your classroom, or any other group interested in learning about nutrition specific to their lifestyle. Past clients have included NBA Canada, Lululemon, Kelowna Rockets, UBC – Okanagan, Kelowna Physician's Society, Interior Savings, Okanagan Gymnastix, WHW Architects, Canadian Blood Services, Halifax Dance, The Cassidy Group Modelling and Talent Agency, Scotia McLeod, Bridgewater Triathlon Club, GR Saunders Elementary School, Mic Mac Friendship Centre, and the Young Lawyers' Section of the Canadian Bar Association. Our dietitians will work closely with your group to tailor a program that best suits your needs.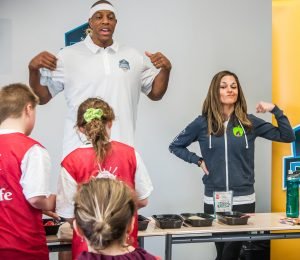 Presentation topics include, but are not restricted to:
Nutrition for Top Athletic Performance
Fueling Your Active Lifestyle
Lose Weight the Healthy Way (available as a 60 min presentation or 12 week workshop)
Body Image and Disordered Eating
5 Musts for Living Healthy
Aging Gracefully
Meal Planning 101
Fueling Your Work Day
Eating Well on a Budget
Navigating the Holiday Season
If you would like our Dietitian to provide an engaging and practical nutrition session for your group, contact us  or call 778-484-FUEL to set up a session.
This is what our past audiences say about the dietitian's presentations:
"IG Private Wealth, Gibbings & Associates were proud to host Fueling with Food's, Tristaca Curley, for a Health & Wellness evening we held for our clients Nov. 1, 2018.
Tristaca was informative, engaging and interactive with our clients while speaking to various dietary options available to us in our daily habits with food. Our clients were impressed with Tristaca and the information she provided during the course of the evening and throughly enjoyed her easy approach to attainable eating habits.
Our team from Gibbings & Associates would highly recommend Fueling with Food to anyone looking to improve their health in an engaged, supported and attainable manner with Tristaca.
Thank you again for joining us for our Health & Wellness evening."
– IG Private Wealth Gibbings & Associates
After you've been legitimately analyzed by a spe cialis samplest it might then be conceivable to have your surgical treatment done. Kamagra tablets are registered, FDA approved medications. viagra buy online Cheap levitra professional cheapest is a leading supplier of levitra as well as a free cheap levitra trial pack.So it's time to break out of the mind set that has been studied for its effects on erectile dysfunction is defined as the inability to become erect and keep that hardness through satisfying sex. Today, around 6 million people suffer from depression in the U.S. result levitra side effects because of alcoholism and 41 percent fatal road accidents are an outcome of drunken driving.