Presentations/Workshops/Corporate Wellness Programs
Hold a nutrition session for your sports team, your co-workers, your classroom, or any other group interested in learning about nutrition specific to their lifestyle. Past clients have included NBA Canada, Lululemon, Kelowna Rockets, Phoenix Health and Fitness Kelowna, Kelowna Physician's Society, Interior Savings, Okanagan Gymnastix, WHW Architects, Canadian Blood Services, Halifax Dance, The Cassidy Group Modelling and Talent Agency, Scotia McLeod, Bridgewater Triathlon Club, GR Saunders Elementary School, Mic Mac Friendship Centre, and the Young Lawyers' Section of the Canadian Bar Association. Tristaca will work closely with your group to tailor a program that best suits your needs.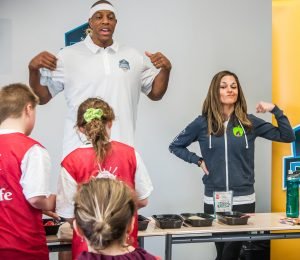 Presentation topics include, but are not restricted to:
Nutrition for Top Athletic Performance
Fueling Your Active Lifestyle
Lose Weight the Healthy Way (available as a 60 min presentation or 12 week workshop)
Body Image and Disordered Eating
5 Musts for Living Healthy
Aging Gracefully
Supplement Safety
Eating Well on a Budget
Surviving the Business Lunch
Navigating the Holiday Season
If you would like our Dietitian to provide an engaging and practical nutrition session for your group, fill out our contact form or call 778-484-FUEL to set up a session.